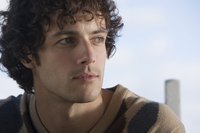 Making the best first impression applies just as much to men as to women. Even though men often have short hair, it's just as crucial to take into account hair texture when caring for and styling it. Curly hair can look shiny and healthy with the right products and techniques. Knowing how to make your hair stay soft and curly throughout the day increases your confidence.
Things You'll Need
Hairdryer (optional)
Pomade
Wash your hair with warm water only. Using hot water makes hair look frizzy.
Squeeze wet hair with a towel rather than rubbing it with a towel. Rubbing the hair also encourages frizz. Put a section of your hair in the towel, squeeze with your hands and then move on to another section.
Put a pea-sized amount of styling cream in your hands. Rub them together and rake through your curls. Avoid putting it on the scalp as that will make it greasy.
Pull your hair forward with your fingers. Hold a hairdryer in your other hand and aim it down onto the hair. This step is only necessary if your hair takes too long to air dry.
Dip your fingers in a tub of pomade. Rub your fingers together and run them through the curls. Pomade defines curls while adding softness and shine.