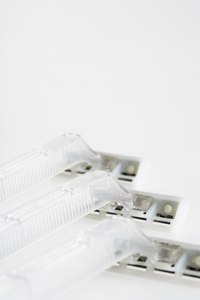 Shaving is a customary part of the morning regimen of men and women alike. Whether you are using a disposable blade or one of the longer-lasting models, you want to get the most out of your razor blade. To get the best shave out of your razor blade, you must keep your blade rust-free for as long as possible. You can prevent your razor blade from rusting with items that are likely already in your home.
Things You'll Need
Clean towel (optional)
Rubbing alcohol
2 small cups
Olive oil
Hair dryer (optional)
Clean the razor thoroughly after using it. Rinse it thoroughly with water to remove excess shaving product and hair. Wipe the razor blade with a clean towel if there are particularly troublesome spots.
Shake off any excess water remaining on the razor blade.
Pour rubbing alcohol into a small cup. There should be enough rubbing alcohol to cover the blade.
Dip the razor blade into the cup of alcohol. This will remove any remaining moisture and will quickly dry the blade.
Pour olive oil into the remaining small cup. There should be enough oil to cover the blade.
Leave the razor blade in the cup of oil until its next use or remove it for storage elsewhere. You should store the razor blade in a place without a lot of moisture or humidity in the air.