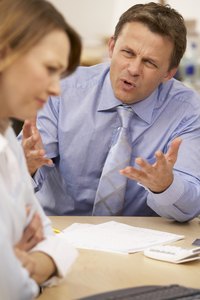 While colleagues may share similar job skill sets, they don't necessarily have the same levels of emotional maturity. Immature colleagues may resort to behaviors such as spreading false rumors, bragging about their accomplishments, being unwilling to cooperate in group activities, refusing to share information and engaging in temper outbursts. While most of these activities indicate a sense of insecurity or desire for power, they can impact productivity in the workplace. Knowing how to deal with immature peers can halt some of these tactics.
Approach an employee who's hoarding information and explain why you need it. Advise your colleague that you'll gladly reciprocate by sharing information that he requires in the course of his duties.
Clear up any misunderstandings or fabrications created by other employees about your work performance by addressing the employee one-on-one. If the information has spread to colleagues, send them an email with the correct information to prevent rumors from becoming the perceived truth.
Leave the room or change the subject when a colleague goes on and on about his accomplishments or problems. Your colleague is looking to you for feedback to feel better about himself, but his monologue can waste a lot of your productive office time.
Stay calm if a peer engages in a temper outburst and don't show fear or anger, as this is the reaction the employee is often seeking by his behavior. Leave the room and thus deprive your colleague of an audience if he continues the outburst and refuses to calm down.
Follow up verbal communication by recapping discussions in an email to make sure your peer understands what's required of him. An email will also serve as a paper trail in the event he doesn't carry out his responsibilities.
Don't wait for employees who are habitually late for meetings. Begin the meeting on time and put the onus on the latecomer to find out the information he missed.