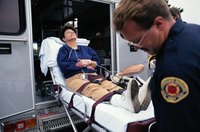 Workers' compensation insurance covers medical expenses for workers who are injured on the job. Medicare provides non-work-related health insurance, primarily for people age 65 or older. Remove workmen's comp from your Medicare by establishing a workers' compensation Medicare set-aside arrangement to cover medical expenses after you are hurt while working. Then workers' compensation funds will be used first.
Things You'll Need
Forms for filing a workers' compensation claim
Receipts for medical expenses
Reimbursement forms for medical expenses
File a workers' compensation claim with your employer if your injury or illness is work-related. Ask your state's workers' compensation agency about your rights and the procedures to follow if you would like additional information.
Call the Medicare coordination of benefits contractor at 800-999-1118. Tell him that you have requested that your employer's workers' compensation insurer reimburse you for medical expenses. Medicare may cover expenses until your employer's insurer decides whether to accept or reject the claim. Medicare may recoup those payments later under federal law if the claim is eventually accepted. It also may cover your expenses if the claim is denied, if they would normally be covered under your non-work-related policy.
Request a settlement for your workers' compensation claim from your employer's insurance provider. You would have to repay Medicare for any workers' compensation-related coverage it paid for previously. Your lawyer could then create a set-aside account to cover future medical expenses with workers' compensation funds that you receive in your settlement.
The Centers for Medicare & Medicaid Services will review your set-aside account if you already are a Medicare beneficiary and the total settlement amount is greater than $25,000; or if you have a "reasonable expectation" of Medicare enrollment within 30 months of the settlement date and the anticipated total settlement amount for future medical expenses and disability/lost wages over the life or duration of the settlement agreement is expected to exceed $250,000. According to CMS, you may have a "reasonable expectation" of Medicare enrollment if you have applied for Social Security disability benefits; you are appealing or re-filing for Social Security disability benefits; or you are at least 62 years and 6 months old. You do not need a set-aside account if the workers' compensation claim leaves the medical aspects open. Nor do you need to seek CMS' approval if the total settlement amount is less than $10,000.
If you require CMS approval, send your proposed set-aside arrangement to the Medicare coordination of benefits contractor at: CMS, c/o Coordination of Benefits Contractor, P.O. Box 33849, Detroit, MI 48232; Attention: WCMSA Proposal
Once approved, use your set-aside account only for injury-related services that Medicare would otherwise cover, such as doctor visits, blood tests or X-rays. You may administer the set-aside account yourself or have a professional manage it for you. The funds set aside should last the rest of your life, unless documented otherwise.