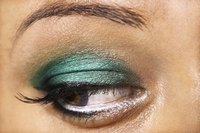 Allergies, budget and dissatisfaction are just a few of the reasons why a woman might want to skip the mass-produced, cream eyeshadow and learn to make her own. You don't need to invest in complicated mixers or makeup presses. In fact, you can make your own cream eyeshadow from the makeup you already own. Just remember to wash your hands before you begin to prevent infecting your new makeup.
Things You'll Need
Loose-powder eyeshadow
Makeup pot
Clear lip gloss
Unscented body butter
Measure 1 tsp. of loose-powder eyeshadow into a makeup pot.
Add 1 tsp. of clear lipgloss or unscented body butter to the pot. The lipgloss will give the eyeshadow a wet look, while the body butter will have more of a matte appearance.
Mix the ingredients together with a craft stick or toothpick until smooth.
Add more powdered eyeshadow until you achieve the color desired. The intensity of the color will be significantly reduced by mixing it with your base.
Tighten the lid on the cream eyeshadow after every use.