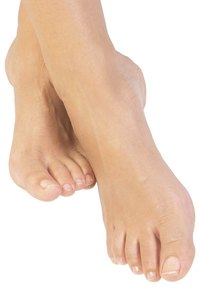 Inspired by a flurry of product label warnings and a growing physical sensitivity to commercially made products, many people are making their own health and beauty items from scratch. Creating your own products allows you to determine what goes into the things you use every day, eliminate waste and save money. Homemade foot powder is easy to mix and use, is great for the environment and uses ingredients you probably have in your home.
Things You'll Need
Large glass or ceramic bowl
Wire egg whisk
Dry ingredient measuring cups
1/2 cup baking soda
1/4 cup boric acid
1/4 cup corn starch
Eye dropper
Isopropyl alcohol
Essential oils of lavender, peppermint and tea tree (optional)
Flour sifter or large zippered plastic bag
Container with sealable shaker top
Preparation
Pour the boric acid, corn starch, and baking soda into your bowl. You may substitute arrowroot powder or baking powder for any of the above ingredients at your discretion, providing the total amount of dry ingredients measures 1 cup.
Whisk dry ingredients together thoroughly to ensure there are no clumps in the mixture. Hold your face away from the bowl as you mix to avoid breathing in any of the powder.
Place 3 drops of lavender essential oil, 8 drops of peppermint essential oil, and 3 drops of tea tree essential oil into the powder mixture using the eyedropper. Clean the eyedropper with isopropyl alcohol, inside and out, between essential oil selections to avoid contaminating each bottle of oil with another.
Mix the essential oils into the powder mixture thoroughly, using the wire whisk. Check for any larger clumps and continue to whisk until clumping is minimal.
Let mixture sit overnight in the bowl to dry thoroughly. Place the bowl in a cool, dry place free from dust and drafts.
Application
Check for any lumps in the mixture the following morning. If you find any lumps, either sift the mixture with a flour sifter or pour into a large, zippered plastic bag and work the lumps out with your fingers.
Pour the mixture into a clean container with a shaker top and store in a cool, dark place. Use a container with a sealable cap that covers the holes when not in use
Shake the foot powder onto clean dry feet, including in-between and underneath the crook of your toes, before putting on your socks and shoes.