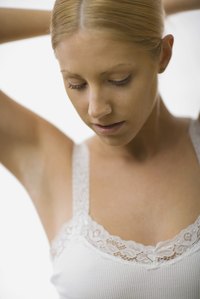 The ponytail is often the default hairdo when you're having a bad hair day. However, styles like the double ponytail are stylish alternatives even when your hair looks fabulous. The double ponytail is ideal for hair that is medium-to-long in length and can be worn by both the straight-haired and curly-heads. Wear the double ponytail to the office, a party or on a date.
Things You'll Need
Tease the top of your hair to get some height in the top ponytail.
Smooth out and pull back the top teased portion so that it is gathered at the crown of your head and secure it with an elastic band. Wrap one small section of hair that is in the ponytail around the elastic band to hide it. Secure the end with a bobby pin under the ponytail.
Gather the rest of your hair for the bottom ponytail and secure it with an elastic band. Again, take one small section and wrap it around the elastic band. Hold that strand in place with a bobby pin under the bottom ponytail.
Mist your hair with hairspray to hold both ponytails in place.