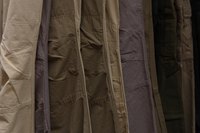 You're looking for those khakis to wear to work or to a family outing at the restaurant only to find them bunched up at the bottom of the laundry basket and wrinkled. Don't get too worried just yet. You can get the wrinkles out of your khakis to make them presentable to wear out of the house.
Spray your khakis with a light misting of water.
Hang them up and allow the wrinkles to "dry" themselves out.
Toss your khakis in the dryer, if the label states that they're dryer-safe, for a few minutes to force the wrinkles out.
Hold a blow-dryer one to two inches away from the wrinkle and apply heat to unwrinkle the pants.