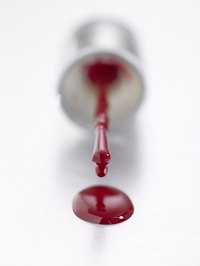 Unlike traditional nail polish, the Shellac system by Creative Nail Design offers a hard finish coloring product that is designed not to chip or fade for up to two weeks. The system uses multiple layers of specially formulated shellac infused gel polishes, including base and finish coats. Each layer is painted on with a brush then cured under a special ultraviolet light. The CND Shellac polish system can be purchased in a kit that includes a preparatory cleansing product, base coat, color coat, and finish coat. The kit, manicure tools and required ultraviolet light can all be found at your local beauty supply store.
Things You'll Need
Nail file
Cuticle pusher
Curette
CND ScrubFresh
CND base coat
CND color coat
CND top coat
CND UV light
Lint-free pad
Rubbing alcohol
Manicure your nails, using a file to shape and smooth the edges and a cuticle pusher or curette to remove the cuticle from the nail plates. Use a lint-free pad to apply the provided ScrubFresh product to remove oil and debris from the nail plate.
Apply the base coat application to one hand, shaking the bottle to blend and brushing a thin layer to each nail surface. Move each stroke parallel to the natural nail and slightly away from the cuticle line. When finished, place all five fingers under the ultraviolet lamp for 10 seconds to cure, then repeat the full process on the other hand.
Apply the color coat to one hand, following the process for the base coat application. Place the finished hand under the ultraviolet lamp for two minutes and repeat to the other hand. Add a second coat of color to each nail, repeating the entire color application and curing process.
Apply the top coat application, following the process color coat application. Place the finished hand under the ultraviolet lamp for two minutes and repeat the application and curing process to the other hand.
Remove the sticky residue from each nail, using a plastic-backed, lint-free pad soaked with rubbing alcohol.