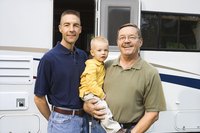 When camping with your baby, it is important to provide a safe and secure place for him to sleep. Small portable cribs are readily available. They can be set up in the camper or on top of a bunk. A pack-and-play style crib can be easily folded for storage during the day. If your space is too small for a portable crib, you can easily turn the dining area seating or a built-in bed into a crib.
Things You'll Need
Expandable baby gate
Measuring tape
Measure the length of the area you have chosen to turn into a crib. Camper layouts are similar. Typically, the dining area is in the center and built-in beds are at either end. If possible, select a bed that is at either end of the camper. You can also use a bench seat near the dining area for your crib.
Purchase an expandable, mesh-covered baby gate with tension rods. Expandable baby gates come in a variety of widths. Select models are also available that can be attached to each other if one is not wide enough for your area.
Place the baby gate along the open side of the area, about one inch in. Secure it to the camper walls with the tension bars. Push on the gate to be certain that it will not move. Tighten the tension rods if needed.
Attach a strip of Velcro to the ceiling or cabinet above the crib area. Attach a strip of Velcro to a sheet. Secure the sheet to the ceiling. Drop the sheet down to cover the crib to provide a dark, quiet place for your baby to sleep. Make sure the sheet is draped over the outside of the rails to form a tent over the crib.