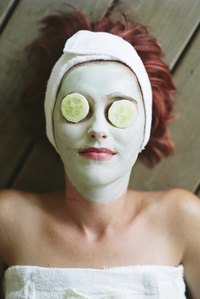 A facial should improve the appearance of your skin, but redness can occur if you have an allergic reaction to the products used or if you had too many "extractions" -- the removal of blackheads, small pimples that are the result of clogged pores. Choosing a gentle aesthetician who will use the correct products for your skin type will help prevent any redness after your facial.
Things You'll Need
Cucumber slices
Aloe vera gel
Instant oatmeal -- unflavored
Honey
Place cucumber slices on any redness. The cool, moisturizing properties of this vegetable will help sooth any redness. To treat all-over redness you can chop the cucumber finely, then put it in a blender with 1 tbsp of honey to make a paste. Spread the paste on your face and neck, leave it on for 15 minutes and then rinse with cool water.
Use aloe vera gel as a calming mask. If you have an aloe vera plant, you can simply use the liquid inside the stalky leaves. It's also sold commercially in most drug stores as an inexpensive bottled gel. Try keeping the gel in the refrigerator; the cool gel might feel better on your inflamed skin.
Make an oatmeal and honey mask to sooth inflammation. Both honey and oatmeal are naturally anti-inflammatory. You'll need plain instant oatmeal; nothing with added flavors or fruit. Don't use steel-cut oats, which can scratch or irritate your skin. Use just enough honey to turn the oatmeal into a paste, then apply evenly to clean dry skin. Leave the mixture on for 30 minutes, then rinse with warm water.