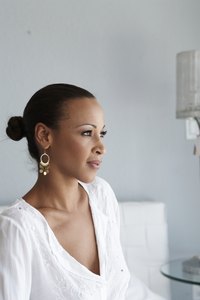 It has happened again. Your jewelry is a tangled mess and you don't have time to untangle the necklace you want to wear. When at home, keeping jewelry neatly organized and untangled is a breeze. But when packing your favorite pieces to take with you when traveling, all your jewelry ends up in one big tangled ball. Rather than wasting time unraveling the mess or not wearing the jewelry you brought along, spend a little time and money preparing your jewelry for travel and you'll be able to wear what you want with ease.
Purchase a jewelry pouch designed to keep your jewelry organized and tangle free by containing enclosed compartments. These can be purchased from local artisans, at department stores or from online retailers. Pouches come in various designs and styles. Choose one that appeals to your taste and jewelry organization needs.
Thread necklaces through straws and clasp the necklaces closed. This keeps necklaces organized and tangle-free, while using organization items from around the house.
Lay a piece of bubble wrap on a flat surface and tape your jewelry to it piece by piece. Roll the bubble wrap up and pack it. This is a simple yet effective way to keep your jewelry organized while traveling.
Pack your jewelry into an egg carton. Egg cartons have convenient compartments that can keep your jewelry organized and tangle-free. Consider using a half-dozen size egg box.
Purchase a large pill box or small portable tackle box and use the compartments to organize your jewelry. These boxes are inexpensive and can work as a temporary jewelry box when traveling.