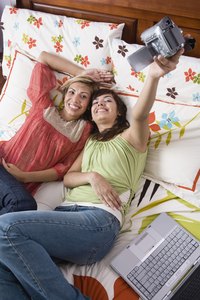 YouTube, an extremely popular site that allows users to publish and share their own video content, has become a major distribution channel for audiovisual content. As a result, the site has also become a fairly competitive space, where a huge number of users including artists, marketers and even politicians compete for the attentions of the site's millions of users, a coveted position among the most popular and most viewed videos. Naturally, there is no substitute for good content in a video to ensure its success, but you can implement a few clever marketing strategies to increase your chances of appearing on the front page of YouTube.
Things You'll Need
Computer with Internet connection
Edit your videos down to shorter clips. Viral videos are usually relatively short – no longer than 30 seconds – as busy viewers often don't have time to watch five-minute segments. If necessary, separate longer videos into sections, each with its own important moment or punchline.
Choose a title for your video that is shocking, interesting or attractive. Be sure to include important keywords about your theme in the title and leave some ambiguity to get users to click on the video.
Distribute your video through different networks. Use blogs, forums, social media and related websites to publish and distribute your video. At the very least, send your video to friends and subscribers to your YouTube channel to guarantee a base of viewers.
Select an attractive thumbnail for your video. YouTube allows you to select any still from your video as a thumbnail, so choose a shot that gets the point across and will stand out to viewers on the screen.
Encourage viewers to leave comments on your video. Video conversations sometimes drive as many people to your video as the video itself, in addition to encouraging repeat viewing. Alternatively, you can set up a different YouTube account to get the conversation started.
Release your videos in groups. Having a good amount of content on your YouTube channel can be an effective marketing strategy in itself, as viewers are likely to view the rest of your content if they like what they see in the first video. This strategy increases your brand identity on YouTube and can help individual videos go viral.
Think strategically about your video tags. Use words users are likely to search for on YouTube and search engines. Consider using similar groups of tags in all of your videos so YouTube will show your other content under "Related Videos."