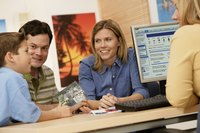 When making travel and vacation plans through a travel agency it is important to ensure that your travel agency is qualified and legitimate. It is important to have confidence in the person or company you are using to arrange your vacation, which will help ensure your travel plans go smoothly. There are a number of steps to help you protect yourself from fraudulent travel agencies.
Verify whether the travel agency is recognized by a travel organization or association. Travel agencies should be members of or accredited by the Airlines Reporting Corporation (ARC), the American Society of Travel Agents (ASTA), the Association of Retail Travel Agents (ARTA) or the International Air Transport Association (IATA). Contact these organizations and research the agency with which you're considering doing business.
Check with the Better Business Bureau to see if there have been complaints against the travel agency. The BBB maintains a searchable online database that allows consumers to see reviews and ratings of businesses. You can also contact your local chapter of the Better Business Bureau for information about a specific travel agency.
Determine whether the travel agency is a member of a local chamber of commerce. Verify that the agency has a physical address and local phone number, and cross-reference this information to see if the company is a member of the local chamber of commerce.