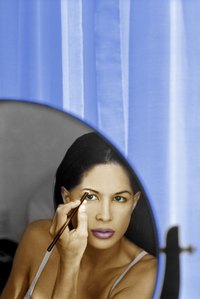 Your eyebrows are an essential part of your face, as they help you convey emotions. Additionally, eyebrows frame your eyes and highlight them; the correct eyebrow shape can instantly enhance your eyes. If your eyebrows are thin and sparse, you can fill them in with eyebrow powder or pencil. Eyebrow pencil deposits more color and gives a bolder appearance, while eyebrow powder creates a softer eyebrow. Once fully groomed, keep your eyebrows in place using products already present in your home.
Things You'll Need
Mascara wand or toothbrush
Eyebrow powder or pencil
Eyebrow brush
Hairspray or eyebrow gel
Brush your eyebrow hairs up and outward with a clean mascara wand or toothbrush. Push the hairs around so they take on your desired eyebrow shape.
Dip an eyebrow brush in eyebrow powder and tap the brush on the rim of the powder container to remove excess product. Use eyebrow powder or pencil that matches the color of your eyebrow hairs. If you use an eyebrow pencil, sharpen it beforehand.
Apply short strokes from eyebrow brush or pencil to your eyebrow area. Move in the direction of the hair growth. Start in the middle of your eyebrow and work outward. Fill in sparse areas between your eyebrow hairs. Come to the front of your brow and work all the way to the outer tip of the brow. Only lightly add color to the inner part of the eyebrows because otherwise it may give you an angry appearance. Avoid applying too much pressure because this may result in a thick color deposit. Start light and gradually add more powder or pencil strokes if desired.
Brush your clean mascara wand or toothbrush through your eyebrow hairs. This blends the color together and softens it. Groom your brows in the desired shape as you do this.
Apply hairspray to the toothbrush and run it through your eyebrows. The hairspray holds your eyebrow hairs in place. Use a commercial, clear eyebrow gel as an alternative.