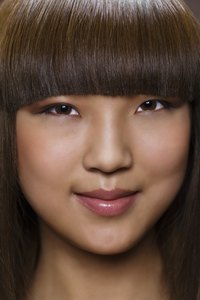 Many women struggle with thinning hair and when the hair loss occurs in the front it can be humiliating. Bangs are an excellent way to cover up thinning hair around the face. They are also nearly universally flattering. Bangs won't stop hair loss, so see your doctor to determine its cause. Some hormonal conditions and chronic illnesses might cause hair loss, according to the textbook "Biology: Life on Earth With Physiology." With prompt treatment, these conditions might be reversed.
Things You'll Need
Hair scissors
Fine tooth comb
Small spray bottle
Mirror
Choose a style of bangs that flatter your face. Try on wigs at a beauty shop or look online at pictures of celebrities with a face shape similar to yours. Long, side-swept bangs generally look best on round faces. Thin, wispy bangs on either side of the forehead look best on longer face shapes while heart-shaped faces benefit from blunt, full bangs. If you have an oval-shaped face, virtually any style of bangs will look good on you.
Part your hair the way you normally wear it using the comb. If you are planning on cutting side-swept bangs, part your hair on one side, then comb down hairs, starting at the part and moving to the other side of the head, to produce hair to cut for this look. For all other bang styles, simply comb hair starting at the front of your hairline down over your face till you have reached the desired bang thickness. For covering bald spots, it's best to comb bangs from behind the thin or bald patches. Otherwise, you won't get full coverage.
Spray your hair with the misting bottle and comb the bangs again in the shape you want them. Begin cutting small sections of hair until you have the bangs you want. Remain in a straight posture while cutting your hair or else the bangs may end up uneven.