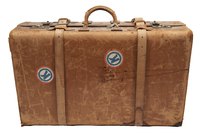 Leather can become badly scuffed when it comes into contact with a sharp or jagged object, such as when you bump into a rock or concrete when wearing leather shoes or if your pets scratch your leather sofa or jacket. So long as the shoes, furniture or garment are in good condition and the scuff does not actually tear the leather, you can repair the scuff yourself. All you need is sandpaper, leather dye and leather conditioner.
Things You'll Need
Saddle soap or leather cleaner
Medium-fine wet-or-dry sandpaper
Spray bottle filled with water
Leather dye to match the color of the scuffed surface
Soft, dry cloth
Leather conditioner
Clean the surface of the scuffed leather with saddle soap or leather cleaner as necessary, according to the directions on the product package.
Spray the scuffed area with water and rub it gently but firmly with wet-or-dry medium-fine sandpaper until the surface is smooth and any protruding leather shreds are removed.
Allow the leather surface to air dry naturally overnight. Do not place it in direct sunlight or near a source of artificial heat to dry.
Brush leather dye onto the sanded surface with a soft-bristle brush or any applicator brush that is included with the dye. Allow the dye to saturate the area. Let it dry according to the drying time and conditions listed on the package. Wipe off any excess dye from adjacent areas of the leather garment or furniture with a soft, dry cloth.
Apply additional coats of dye once the dye is dry to the touch or you see that the dyed area is lighter than the areas surrounding it, which means that the leather can still absorb more dye.
Wait a day for the dye to dry fully. Buff it with a soft cloth. Apply leather conditioner to the entire surface. Use your garment as usual after you buff the conditioned surface again with a soft, dry cloth.