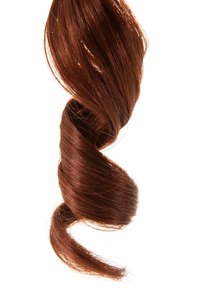 Keeping your curls in place can be tough. Many women have left the salon with gorgeous hair and awakened the next day with a hairstyle that looks nothing like the original. If you can't make your ringlets last, don't worry. There are a few tricks to getting the style to stick.
Things You'll Need
Hair net or silk bonnet
Bobby pins or rollers
Care for your curls while you sleep. This is the most effective way of keeping them in place. To keep your spirals bouncy, do a pin curl. Loosely wrap your ringlet up with your finger and bobby pin it down. Repeat this with every curl until everything is pinned up. The step can be time-consuming, but it's worth it.
Wrap your hair up with a hair net or silk bonnet. If you're using a hair net, place it over your head and tie it in place at the nape of the neck. Satin bonnets are just placed on your head over your curls. Wear this while you sleep to protect your curls from frizz.
Carefully remove your net in the morning and take down your bobby-pinned curls. Once all curls are removed, gently use fingers to tug your curls to loosen them up. If you got your ringlets put into a roller set, they'll probably stay a little better for the first couple of days, especially if you have thick or coarse hair, so if you want your curls to fall and loosen a bit, skip the pin curl for the first night or so.
Fix any mistakes with a curling iron. If your curls still look a little limp or if a pin curl or two fell out overnight, touch up sections with a curling iron. Wrap the hair around the iron vertically so it keeps it's ringlet shape and use the same size iron to touch up that you used to create the ringlets.
Know when it's time to wash your hair. Some women can go for two weeks without washing their hair and be fine, but others can't. It depends on how quickly your hair builds up oils. Your ringlets could still be in place, but you might have oily, stinky hair before two weeks is up. If it's time for a wash, go ahead and shampoo your hair and then re-curl it.