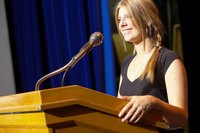 Becoming a high school motivational speaker requires a combination of experience, skill and persistence. While you don't have to have a formal degree, you do have to be competent in other areas. Even if you have the most relevant and profound experiences to share with high school students, your message will never be heard or it will fall flat if you don't know how network to get speaking opportunities and speak effectively to your target audience.
Make a list of themes that apply to high school students and jot down your personal experiences with those themes. Some themes include peer pressure, dating, academics and coping with authority. By connecting your experiences with the same themes teenagers currently face, you'll uncover valuable motivational speaking material.
Keep up-to-date with high school student culture. Browse some teen magazines. Listen to some of the hottest new music artists that appeal to high school students. Watch television shows popular with teens. Reference ideas from popular teen culture in your motivational speeches to help you make a connection with your audience.
Find a mentor in the motivational speaking field. Ideally, find someone who successfully speaks to high school students. Ask your mentor for inside information, such as how to get speaking gigs. Al Duncan, a professional motivational speaker, states on his website that working with a mentor can knock years off the learning curve of becoming a successful motivational speaker.
Join the National Speaker's Association or Toastmasters International to hone your public speaking skills and help you network.
Create a website that advertises you as a high school motivational speaker. Include some background information and contact information so people can call you about bookings. Research the market to see what you should charge for a public speaking appearance. Scott Greenberg, a motivational speaker, states on his website that schools typically have more restricted budgets than companies, so price your services accordingly.
Call the central administration office of each school district that you target for a speaking engagement. Ask who to contact about booking an event. Call the person directly, and introduce yourself and state your purpose. State some reasons why the person should book you to speak to the students, such as your personal struggles with being an underachiever or how you turned your life around in your senior year of high school. Offer to help find sponsors to cover the cost of your fees. Send a follow-up email with a link to your website.
Contact the person in charge of booking events again within two to three days. Tell him that you will find local sponsors in the community to help cover the cost of the presentation.
Contact representatives of local community organizations and tell them your purpose. Explain that the high school officials are interested in having you present to the students, but they require sponsorship to help cover the fees. Offer to do a free motivational speech for the organization's members to show your appreciation for its help.