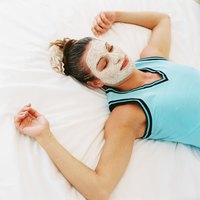 Of all the veggies in your crisper, onions may seem like an unlikely candidate for a spa-worthy face mask. But beneath the spicy flavor and tear-jerking reputation, onions contain sulfur and anti-inflammatory properties, making them ideal for acne-prone skin. Adding oatmeal to the mix gives your mask a soothing and moisturizing quality. For best results, make sure your oatmeal is still warm before adding your other ingredients so the mixture will spread on your skin easily.
Things You'll Need
Soap
Towel
Medium-sized white onion
Knife
3 tablespoons oatmeal
Small bowl
2 tablespoons water
Food processor
Honey (optional)
Wash your face with gentle soap. Rinse and pat dry with a soft towel.
Chop your onion into medium to large chunks. If your eyes start to tear or the onion has a strong smell, place it in the refrigerator for 30 minutes to one hour. A strong onion may irritate eyes, and letting it sit will help dissipate some of those tear-inducing properties.
Pour the oatmeal into a small bowl. Heat water to boiling on the stove or in the microwave. Add the water to your oatmeal and let it sit for 5 to 10 minutes.
Puree the onion in a food processor until it is smooth. Add the onion to the oatmeal.
Add enough honey to the oatmeal and onion mixture to make a thick, sticky paste. Blend well with a spoon. The honey is not essential but does add additional moisturizing and anti-inflammatory properties.
Smooth the mask on your face with your fingers, avoiding your eyes and mouth. Be sure the mask is lukewarm before applying. Let it sit for 20 minutes. Rinse thoroughly and pat dry.