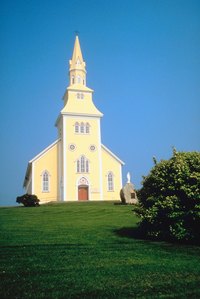 A church loan can be as similar to traditional commercial financing as it can be completely different. Unless you are a commercial lender specializing in church loans, you will see far fewer of such requests than other types of commercial real estate. Analyze a church loan the same way you would any other type of loan. Continue to look for the "Five Cs of Credit Analysis" -- capacity, capital, collateral, conditions and character -- to drive the analysis. After that, you can look to church-specific issues, such as collateral, sources of income, location and size of the congregation.
Review the loan request to determine the direction of your analysis. A construction loan to build a new parish community center will require different analysis than a loan to refinance a mortgage on the church building. Ensure the loan officer in charge provides the loan amount, the rate and the term.
Compile the supporting documentation. The type and amount of documents required will vary based on the loan. You will need three or more years of financial statements, including the church's balance sheet and background on the church and its officers. If the loan is for construction, you need a copy of the budget, plans, permits, approvals and surveys.
Calculate the church's debt service coverage ratio. Using the financial statements, add net income, interest expense and depreciation to calculate income. Add mortgages, notes or bonds payable in one year or less, current portion of capital leases and proposed principal and interest payments to calculate debt. Divide the income by the debt. If the ratio is less than 1:1, the church does not have enough income to support the debt.
Compare the church's assets and liabilities on the balance sheet. If the liabilities outweigh the church's assets, it is already highly leveraged, making further loans a risky venture. Look for major changes year over year such as an increase in notes payable, or a decrease in cash or retained earnings.
Prepare a collateral analysis. Use a current valuation of the property or obtain a new one. Note the specific uses of the property. The actual worship section of the church is likely only part of the building. There may also be a rectory, offices, classrooms and halls for various uses. The variety and uses of the property will factor into the money-making potential of the collateral.
Note any industry-specific issues. For churches, this includes the size of the congregation, economic impact on donations, the existence of alternate revenue streams and the number of other churches in the area. All of these elements can factor into the church's ability to repay the loan.
Compile your information into a written report. Separate the document into sections discussing the loan overview, financial discussion, collateral discussion and industry-specific issues. Summarize the information and make a recommendation as to approval or denial of the loan. Present the report to the appropriate approving officers.