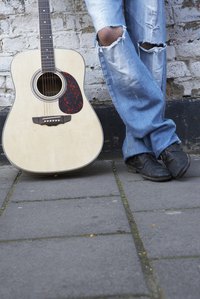 Jeans are more than just a comfortable and durable garment; they're a garment that offers you versatility. Jeans can look both rugged or sleek and chic; it all depends on how you dress them up or down. However, if you're more interested in the rugged look, distressing your jeans is a surefire way to transform them according to your exact specifications. You don't need to be a professional fashion designer to distress jeans, you just need to approach the task strategically.
Things You'll Need
Lay the jeans out in front of you on a flat work surface with the jeans face down. Open your scissors as far as they will go and hold one of the blades in front of you like a knife.
Run the blade of the scissor back and forth across the top of the back pockets. This will create gentle or dramatic fraying on the tops of the pockets, depending on the effect you want.
Run the edge of the scissors' blade along the edges of the belt loops all around the waist of the jeans. Flip the jeans over and run the edge of the scissor blade over the tops of the front pockets.
Flip the jeans over to the back pockets and make a slight horizontal slit across each pocket. How big you want the slit to be is entirely up to you.
Rub a pumice stone over each slit to form it into a frayed hole. Once the hole has fully formed, pull out some of the fibers around the mouth of the hole to exacerbate it even more.
Flip your jeans over and make a slit with your scissors anywhere else you want a hole to be along the front of your jeans. Follow with a pumice stone and then pull out all loose fibers around the mouth of the hole.
Run the pumice stone along the surface of the jeans to give them a worn look.