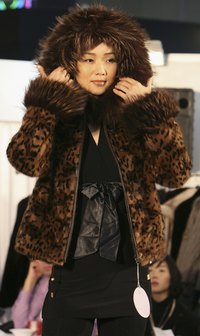 There are times when the weather can take a turn for the worst with strong winds, heavy rain or falling snow. Battling the elements forces you to look for cover, but your favorite jacket doesn't have any to offer. Attach a hood onto your jacket so in the future you don't get stuck standing out in the cold.
Things You'll Need
1 yard fabric
Unwanted hooded sweatshirt or jacket
Jacket
Scissors
Chalk or marking pen
T-Pins
Seam ripper
Sewing machine
Ruler or measuring tape
Preparation
Take the unwanted hooded sweatshirt or jacket and fold it in half horizontally. Measure the center of the jacket with a ruler or measuring tape. Mark the center with the chalk or marking pen. Do the same for the hood.
Use the scissors to cut off the hood of the unwanted sweatshirt or jacket. Cut as close as possible to the base of the sweatshirt or jacket where the hood attaches to the shirt.
Once detached from the unwanted jacket, use the scissors to cut the hood in half starting from the center and up along the curve. Pick one of these pieces to use as a pattern piece in order to create the new hood for your jacket.
Lay the pattern piece over the fabric and trace the pattern onto the fabric using chalk. Make sure to add 5/8-inch to the tracing as a seam allowance. Make the markings with chalk. Complete this step twice.Take the scissors and cut out the two fabric pieces. Use the chalk markings to guide your cutting.
Creation
Pair up the hood pieces with the wrong sides facing out. Sew along the curved edge.
Hem the outside of the entire hood, so that there are no raw edges exposed. Make sure to turn the finished hood right side out.Take the jacket (the one that you plan to attach the hood onto) and turn inside out.
Measure and mark the center of the jacket's collar. The center of the hood should also be marked. Flip the hood upside down and place it inside the turned out jacket. Align the hood's hem with the edge of the jacket's collar. The center markings should also be in line with one another.
Pin the hoodie to the jacket collar 5/8-inch from the edge and then sew it. The pins will serve as a seam allowance marker while sewing. Once sewn, turn your finished jacket with hood right side out.