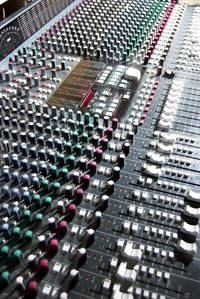 While many people aspire to be a singer or famous musician, many other opt for a technical or support role in the music business. One of the most visible positions in the live music production field is the front of house (FOH) engineer. The FOH engineer is responsible for manipulating live sound from the stage and reproducing it through the audio sound system for the audience. Although this may sound like a simple process, live sound engineering is an art that can take skill and some experience to master. The road leading to a position as a FOH engineer can take many paths, each with their own set of challenges.
Go to concerts. As simple as this may sound, it's a great way to learn what a FOH engineer does. Spending time at concerts allows you to watch an experienced FOH engineer at work, check out some of the equipment he uses, and see how he interacts with the other crew members and the band. Most importantly, listen. Take time to notice the characteristics of the concert sound, such as level, balance and equalization.
Take classes on live sound engineering at a specialized school or local college. In some cases, they may offer full degree programs in live audio production or workshops in FOH engineering. This is the best way to gain knowledge and experience on modern sound equipment in a live environment. If available, an internship or apprenticeship with a live sound production company may substitute for formal education.
Join the stagehands or theater workers union. There are union local branches in most major cities that supply skilled labor to local venues and touring companies. Although they may require some experience, some locals offer classes or workshops on basic stagehand skills. This is a great way to get started towards a FOH engineer position.
Approach local bands or venues for a FOH engineer position. Smaller theaters, concert venues or clubs may not require the same level of experience that major production companies do. Local bands may be happy to have someone willing to help with their live audio needs, no matter your experience level. If you own a sound system that you can offer in exchange for the opportunity to be the FOH engineer, this can open the door for lots of opportunities.