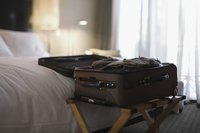 Suitcase stands are used in hotels to hold your luggage when you unpack. They almost always fold up, so you can put them out of the way when you are not packing or unpacking. A folding suitcase stand is convenient, and a nice touch for your guest room. It makes a simple woodworking project. All it takes is a little wood, paint, a few strips of heavy fabric and a handful of hardware.
Things You'll Need
Quart of paint
20 inches of heavy fabric
Sewing machine
Poplar (paint grade, no knots)
One 25 inch length of ½ inch by 1 ½ inch
One 26 inch length of ½ inch by 1 ½ inch
Four 30 inch lengths of ½ inch by 1 ½ inch
Two 30 inch lengths beveled ½ inch by 3 inch
A 25 inch and a 26 inch dowel with diameters of ½ inch
Glue
12 wood screws, No. 8, 2 inch
Drill
2 No. 10 by 1 ¼ inch aluminum spacers
2 No. 10 - 32 hex head machine screws
2 No. 10 nylon stop nuts
Paint the wood, ignoring the ends, and let the paint dry – stand the wood on unpainted ends. Glue the 25-inch length between two of the 30-inch lengths making a giant letter "U" that is uniformly 1 ½ inch thick and 26 inches wide. The cross piece should have the wide side down – the bottom of the U. Build a second U with the other lengths.
Glue the 25-inch dowels across the appropriate U about eight inches from the tips of the U. Do the same thing with the 26-inch length and the remaining two 30-inch lengths. When you are finish, the smaller U should fit snugly inside the larger U.
Cut the fabric into five equal sized strips -- each 20 inches long. Fold under each edge ¼ inch and sew. Make a loop big enough to fit around the beveled lengths and sew the loop. Slide the loops over the beveled boards so that all five strips link the two beveled boards before they are glued into place.
Put a wood screw from outside the U and into the center of the crosspiece. Glue the beveled lengths centered on the bottom of the U's. When the glue is dry, put the remaining wood screws in place to hold the beveled boards onto the legs or the U's.
Drill a hole through both U's at approximately the midpoint. Line up the holes and put the two aluminum spacers through the holes. Put the long screws through the space and secure them with the nylon nuts.