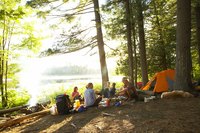 Keeping perishable foods cold while camping is absolutely vital. Milk, eggs, meat and other fresh foods will spoil quickly if not kept cold, and consuming them can make you very ill. If you want to bring eggs with you on your camping trip to fry up for breakfast, take the right precautions to ensure that your eggs stay fresh.
Things You'll Need
Purchase or make ice packs to keep your eggs cool. To make your own, fill plastic soda bottles, half-gallon milk jugs and resealable plastic freezer bags two-thirds full of water and freeze.
Fill an ice chest with ice packs and put your eggs inside. Make sure the ice packs are evenly distributed in the cooler.
Wrap your ice chest in a blanket or towel for extra insulation.
Keep the ice chest in the back seat of the car, as opposed to the trunk, on the way to the campsite. It will likely stay cooler inside the vehicle.
Keep your ice chest in the shade, never in direct sunlight.
Refill your ice chest with ice when your ice packs begin to melt. If you don't have access to ice and plan on a long camping trip, consider using dry ice to keep your eggs cool.
Check your eggs to make sure they are still cool before you prepare them. If they feel warm, toss them out.