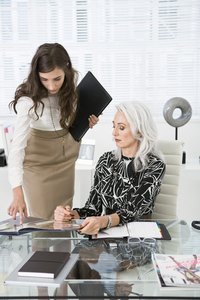 An executive assistant is a professional who provides high-level administrative support to managers or an office, and generally has less clerical tasks than secretaries. Tasks may include acting as a contact for the human resources department, handling budgets, writing proposals and memos, creating reports and making travel arrangements. During an interview for an executive assistant position, you must prove that you can perform all the functions of an office assistant and have good business sense.
Review the job description carefully, because every executive assistant job has different requirements. By knowing what a company expects from an executive assistant, you can formulate your answers in a way that shows that you are a good fit. Not all executive assistant positions are the same. For example, an executive assistant positing at one company may require you to have a degree and managerial experience, while another may require you to have good writing skills and the ability to create presentations. If there is a duty in the job description with which you do not have a lot of experience, you can state that one of your professional goals is to gain experience and improve your skills in that particular area. As an example, if you only have basic knowledge about taking the minutes at a meeting, you can tell an interviewer that you know the general format of meeting minutes. You can also state that since every company publishes its minutes in a different manner, you will have no problem learning that company's particular format.
Learn about the company and the individual you will assist. You can learn about the company on its website, which may also include profiles of those in executive positions. Learn about the company's and prospective supervisor's goals and state how they align with your professional goals during the interview.
Do not be shy when talking about your skills and strengths. Executive assistants have several responsibilities and companies seek individuals who are smart, dependable and organized to fill this role. When listing your strengths and skills, provide examples of times you used them. For example, if you have great organization skills, you could talk about a time you created an efficient filing and organization system for an office that lacked one. As you talk about your attributes, state how they benefited past employers.
Be honest about your weaknesses as an executive assistant. When an interviewer asks you about your weaknesses, she is not trying to make you feel bad about yourself. Instead, she is trying to learn about your goals, how you seek to improve yourself professionally and how you overcome obstacles. While an executive assistant has several responsibilities, no one is perfect. Weaknesses an executive assistant may have include time management skills, computer skills, working under pressure, handling certain personality types, typing skills and writing ability. When asked about weaknesses during an interview, be upfront and tell the interviewer how you currently handle or plan to deal with the situation. For example, if you state that you have a hard time working under pressure, you can counter the negative statement and say that you have or are trying to overcome this obstacle by creating a to-do list, prioritizing tasks and staying organized.
Prove that while you may work for one person as an executive assistant, you are also a team player who works well without directions. During an interview, discuss how you have helped others at previous assistant jobs and shared common goals. For example, you may tell an interviewer about a time when you worked with a team a former supervisor led in preparation for an important conference. At the same time, tell the interviewer that you are a self-starter who does not need to be pushed to accomplish tasks or stay focused and motivated. Because executive assistants must work well independently, talk about how you are able to develop a routine, yet remain flexible, all while being able to anticipate your supervisor's needs. In addition, discuss how you have shown initiative or gone the extra mile as an assistant for a supervisor or office. An example of showing initiative as an executive assistant can include placing a copy of your supervisor's daily calendar on his desk every morning without being asked or developing an organization system even though it was out of the scope of your duties.