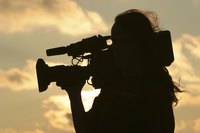 Sports camera operators run video cameras to provide visual footage and records of sports events. These operators help broadcast live footage or record it for refereeing, coaching or historical purposes. They may focus on working either directly in the field or in a studio. Becoming a sports camera operator is straightforward, but you'll still need both postsecondary education and on-the-job experience to advance in the profession.
Take time to research vocational schools, junior colleges, universities and colleges offering courses in camera operation and videography. Enter the field with as little as an associate's degree or equivalent certificate, but because bachelor's degree programs are more in-depth and provide more training, employers prefer those who have four-year degrees, according to the U.S. Bureau of Labor Statistics.
Select several schools that offer good camera operation programs. Get the contact information for the admissions departments for these schools and ask about the application and admission requirements. Request an application from the appropriate departments, or print off the information and forms you need from the school's website.
Enroll in the school that best fits your goals once you hear back from the school about your acceptance or rejection. Take courses such as videography, equipment, cinematography and lighting. Take classes in business and computers as well, as most camera operators -- particularly sports camera operators -- are self-employed and the field relies heavily on technology for data transfer and editing.
Update your resume to reflect your camera operation education.
Look online, in newspapers and sports and television publications for entry-level job postings related to sports camera operation, such as control room technician or production assistant. In these jobs, you'll do basic jobs like setting up cameras, adjusting and positioning lights and switching out lenses. Typically most companies or schools require you to gain experience with them before obtaining a sports camera operator position.
Get in shape. You don't have to look like a bodybuilder, but unlike many other camera operators, sports camera operators have to move around quite a bit to keep footage targets in view and get good data. They must do this while carrying heavy professional-quality cameras. Hiking and backpacking, biking, running and light upper body weight training all are good options.
Subscribe to as many sports or general camera operation publications as possible and join related organizations. This will keep you informed about the industry and allow you to network to find out about jobs that might be upcoming.
Look for internships related to camera operation. Internship programs may or may not be paid, but they give you more hands-on opportunities than other entry-level positions to practice with a camera. Check with sports agencies to find out which companies usually handle video footage and see if those companies would be willing to work with you.
Update your resume and create a basic footage portfolio of work you've completed. This could include footage from local high school sports programs, where you volunteered to capture the footage for the coach. Write a formal cover letter to accompany these materials in job applications.
Research available positions for sports camera operators. You'll need to do this often, as many operators are freelancers, and companies contract with operators on an "as needed" basis, says the BLS. Take sports seasons into account and focus your attention on the sports organizations currently in operation -- for example, if you want to shoot football, you'll need to wait until the fall. You'll likely need to rotate sports and related organizations to get year-round work.
Submit your portfolio, resume and cover letter to the companies who need sports camera operators. Set up and attend interviews with the companies that express an interest in working with you.
Tweak your resume continuously to represent your best sports camera operation work. As you gain experience, expand your work search to organizations and broadcast companies that have a wider audience scope. Although freelancing has advantages such as control over which events you shoot, take into consideration that a large organization or company offering full-time positions usually also provide health, insurance and other benefits.