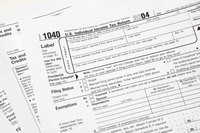 Restaurant waitresses file their taxes like any other citizen -- with one exception. Federal tax regulations require waitresses to notify their employers of the exact amount of tips they make in a month. The employer will then deduct applicable withholding taxes and report the tips on the waitress' annual W-2 form. Although there is no required tax form for the monthly employer notification, the Internal Revenue Service provides a recommended form that any waitress can download and use to track her tip income.
Report Your Tips
Record the total amount of tips you collect for every day you work. This includes only tips that you take home; it does not include the portion of tips that you share with other employees. Use IRS Publication 1244, "Employee's Daily Record of Tips and Report to Employer," to keep your records up to date.
Report your tips to your employer each month. Each employer has a different reporting process, so verify with your supervisor how to proceed. IRS regulations require you to report tips if you earn more than $20 in a single month.
Maintain a record of your tips so you can reconcile your tip earnings against what your employer notes on your W-2 form.
File Your Taxes
Obtain a copy of your annual W-2 wage and income statement from your employer.
Verify that the total tip income noted on your W-2 statement reconciles with your own records. If it doesn't, talk to your supervisor and obtain a corrected copy.
Complete the annual income-tax return statement applicable to you. Many waitresses with no additional income or rare deductions file the 1040-EZ form.