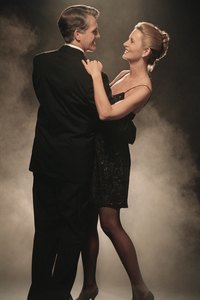 Ballroom dancing has recently made a comeback. Viewers tune in weekly to watch popular dance shows. Many people are taking to the dance floors to learn and perfect their dance moves. Some people believe ballroom costumes and hairstyles are as important as dancing techniques. Finding the right hairstyle to go with the music and dance routines is important. Loose, dangling hair can be a distraction to dancers and judges. Sweeping hair up and off the face is preferable. You can also have fun dressing up a classic updo with decorative hair accessories.
Things You'll Need
Hair gel
Hair spray
Comb
Ponytail holder
Bobby pins
Decorative hair accessories
Hand mirror
A classic updo starts with wet hair. Apply gel to the hair. Be sure to work the gel down to the ends. Spray some hair spray to control wisps and stray strands of hair.

Comb and gather the hair into a ponytail and secure with a ponytail holder. Work with small sections by dividing the ponytail. Roll each section up and over. Crisscross two bobby pins, one over the other, to hold each section in place. Repeat this step until the entire ponytail is rolled up and over.

Spray a generous amount of hairspray on all sections of hair. Give your head a gentle shake to be sure the hairstyle and bobby pins are secure. Remember: You will be moving a lot while dancing. Place decorative bobby pins around the crown of your head to control stray strands of hair.

Add accessories to your updo. Insert silk flowers, rhinestone barrettes, jaw clips or hair sticks into the hair. Check the finished look in the mirror. Make adjustments, if necessary.