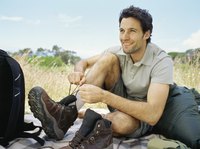 Choosing the right sock keeps your feet safe from painful blisters while you work or indulge in a challenging hike wearing your favorite boots. Numerous manufacturers produce calf-high socks that are designed with elastic ribbing, so they stay up when wearing boots. However, over time this elastic can break down, causing socks to fall down around the ankles during regular wear. Two simple tips can keep your socks up where they belong, for the entire time you are laced into your boots.
Put on your socks and pull them as far up your calves as they will go. Stretch out a rubber band using both hands, and put one foot through the middle.
Place the rubber band 2 inches down from the top of your sock. Fold the top two inches of your sock down over the rubber band. Put on your boot and lace it up as usual. Repeat the process with your other foot and the second rubber band.
If problems persist, put on socks and pull them up as far as they will go. Put on boots and lace them. Fold the top few inches of your socks down over your boots themselves, so they are guaranteed not to fall down.