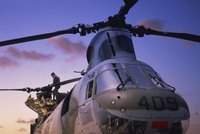 If you dream of building bridges, developing a new electronic application or maintaining aircraft for the safety of pilots and astronauts, the field of technical engineering is ideal. Before enrolling in a program, zero in on an area of technical engineering that interests you to find the right fit. Once you complete your studies, you will be ready to embark on an exciting career in technical engineering and receive on-the-job training.
Take courses in math and science on the high school level in preparation for admission to a technical engineering training program.
Investigate training programs at technical schools, community colleges, vocational-technical schools, in the Armed Forces and at the extension division of a university or college. While some employers in the field may not require formal instruction and instead offer on the job training, most prefer a candidate with a two-year associate degree or other post-secondary education in engineering technology.
Choose a technical engineering program to prepare you for the specialty you will go into. ABET, the Technology Accreditation Commission of the Accreditation Board for Engineering and Technology, accredits most two-year associate degree programs in around 700 specialties. Technical engineers generally specialize in fields like aerospace, civil engineering, electronic engineering or electrical engineering. Technical institutes provide programs with hands-on training and less theory than community colleges as well as two-year associate degree programs similar to a college program.
Take a range of technical engineering courses. An aspiring technical engineer would be required to take courses like construction estimation, steel design, water resources technology and construction surveying along with math and science courses liek physics, geometry and calculus.