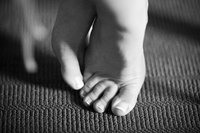 How to Avoid Getting Corns. Corns can be either soft or hard, depending on their location on the foot. Hard corns are pea-sized and appear over bony prominences. Soft corns develop between toes. It's much easier to prevent corns than try to treat them once they've cropped up.
Things You'll Need
Callus/corn Treatments
Cushioned Shoe Insoles
Foot Buffers
Foot Lotions
Foot Powders
Pedicure Kits
Wear shoes made of soft materials, especially leather. The agility of the material helps reduce toe pressure and friction.
Choose shoes with extra cushioning in the heel and ball. This keeps your foot in a natural position.
Pick shoes that have wide rounded toes, and plenty of room for toes to move around in. This reduces pressure between toes.
Avoid any shoe with a heel higher than 2 1/4 inches.
Be sure your shoe has a smooth lining. Seams can rub and cause pressure to toes.
Throw away all shoes that don't look like the human foot. Narrow-toed shoes predispose you to corns, bunions, foot pain and arch problems, because your foot is held in such an unnatural position.
Dry thoroughly between your toes, and wear cotton socks. Chronic moisture causes skin to breakdown. When socks feel damp, change into a fresh pair.
Go barefoot at home, whenever possible. Mother Nature meant our toes to be splayed out naturally able to wiggle freely.
Ask your podiatrist about functional orthotics (inserts and wedges that can be fitted inside your shoe to change your foot mechanics) for chronic corn problems. Properly prescribed orthotics can decrease the shear and friction between your toes and your shoe.
Consider surgical correction of an underlying foot deformity if you have chronic corns. For example, having a hammertoe straightened surgically can relieve pressure to the toe and stop corns from forming.