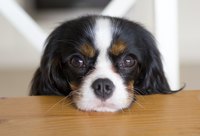 It's important to train your dog to fit in with the family. The key word here is "train." Dogs don't know what you consider good and bad behavior unless you show them. When training, keep in mind that dogs should blend with your lifestyle. They should not be a constant distraction by displaying bad behavior.
Teach Basic Training Techniques
To correct bad dog behavior, you need to teach your dog some basic commands. This sets the stage for your dog listening to you and teaches your dog self-control skills. The commands of sit, down, come and stay allow you to control your dog in many situations. If you don't know how to train dogs in basic commands, hire a dog trainer who can train your dog and teach you how to reinforce what your dog learned.
Identify Bad Behaviors
You need to identify what you consider the bad behavior to be. Here are some common bad behaviors that you can change:
Excessive barking
Jumping on you and guests
Marking in the house
Being aggressive to family members, other pets or visitors
Destroying items around the house by chewing
Begging
Note that punishment should play no role in correcting bad behaviors. Your dog probably won't understand why she's being punished, so it won't stop the behavior. It only will frighten your dog.
Deal with Specialized Problems
Barking: Remove your dog from the situation instead of letting him bark nonstop or yelling at him to stop. When the barking stops, give your dog a treat. Teach your dog the quiet command by first teaching him to speak. Then, teach "quiet." Jumping: Ignore your dog, and turn your back on her. When she stops jumping, turn around and show affection. Marking: Stay with your dog at all times to correct this behavior because you need to catch him in the act. Say "no" or "eh" to interrupt him. Then take him outside immediately. Praise him, or give him a treat when he urinates outside. Aggressiveness: Make sure your dog gets enough exercise and understands that you are his leader. If your dog's behavior doesn't change, seek professional assistance from a dog trainer. Chewing: Give your dog something suitable to chew instead of shoes or baseboards, such as a chew toy stuffed with food. Begging: Never feed your dog from the dinner table. When you sit down to eat, tell your dog to sit or lie down on her bed, and give her a chew or a toy that occupies her during your mealtime.
Know the Importance of Correcting Bad Behavior
Lack of training is the No. 1 reason dogs wind up in shelters, according to Cesar's Way, the official website of Cesar Millan, the Dog Whisperer. Once you've trained your dog, your quality of life should improve and the bond you share with your dog should strengthen. Dogs typically are eager to learn, making training an enjoyable activity for both you and your dog.