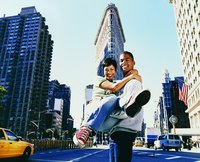 As you ponder which nightshirt to pack for the city that never sleeps, prepare for a varied climate and a lot of walking on your New York City trip. Vary outfits for nights on the finer side of NYC and days stomping around the far corners of the boroughs. Pack light to leave room for anything you'll want to buy.
Big Apple Basics
Make sure you're equipped to soak in every bit of New York. Pack a tuxedo or formal gown if you're planning to go to the opera, and scale down to a chic suit or dress for the theater or an elegant dinner out. When in doubt, you can't go wrong with basic black. Pack day outfits that can transition into casual wear for dinner or playing in the park. Leave room in your bag commensurate to how much you plan to shop while in NYC. Take a backpack if you plan to tote around a camera, compact umbrella, bottled water, sunscreen or other essentials for hiking the concrete jungle. Remember, you will find vendors selling almost everything here, so save some room in your luggage by buying on arrival, asking your hotel for a loaner umbrella or picking up toiletries at a nearby store.
Smart Shoes
If you're coming from the West Coast or another car culture, your feet could be in for a shock unless you're taking cabs everywhere. Fashionable heels fit for an NYC nightspot might not be the most comfortable choice for hiking through Manhattan, so tuck a folding pair of ballet-style slip-ons in your bag to rescue your feet from high-heel hurt as the day or night goes on. If you're heading for Central Park or a day of sightseeing to Ellis Island and back, make sure you have comfortable walking shoes. Boots can be a happy medium between shoes that are comfortable enough for walking yet look stylish enough for a dressy cafe. Break in new shoes well before your trip.
Four Seasons
If you've never experienced a Nor'easter, do some weather research before heading to see the New Year's apple drop in Times Square. Pack a jacket that weathers both whipping winds and sloppy sleet, and layers to keep warm once you peel off your coat in stores or restaurants. Be prepared for slick, nasty sidewalks and pack rain boots with good tread along with warm socks to keep your feet toasty. In the summer, expect a sauna. Go for natural, breathable fabrics and don't worry much about needing warmer nighttime layers if you're visiting in the summertime. If you're planning a spring or fall visit, your wardrobe options have a broader range. Layers may include light jackets, pants and long-sleeve tops.
Safety Savvy
Designer labels and New York City go together like apple and pie, but consider how packing expensive clothes, bags and jewelry could make you a target for thieves. Pack items that help make you less vulnerable to purse snatchers and thieves whether strolling down a side street or densely packed into a subway car. Briefcase bags and purses should zip securely and fit tucked into your arm, but the New York Police Department warns that cross-body bags favored by safety-savvy travelers have caused injuries when a robber keeps pulling despite the strap hooked across the victim's body. Pack jewelry that can easily be concealed and accessories that help with concealment, such as a necklace shrouded by a scarf or a ring covered by thick gloves. If you're dressed to the nines for a vacation night on the town, take a cab or limo instead of the subway.