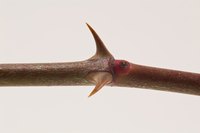 How to Remove a Thorn. Sometimes when a thorn gets stuck under your skin it will work itself back out. If not, you'll have to remove it in order to eliminate the symptoms of pain, redness and swelling the thorn may cause.
Things You'll Need
Betadine Solution
Isopropyl Alcohols
Needles
Pins
Antibiotic Creams
Cotton Swabs
Eyebrow Tweezers
Nail Clippers
Try to "milk" it out by squeezing your fingertips over the thorn. If this doesn't work, try the following:
Clean a pair of tweezers, a pair of small-sized nail clippers, and a needle with isopropyl alcohol or betadine solution. Be sure to swab the pinching surfaces of the tweezers and the cutting surface of the nail clippers.
Dip a cotton swab in either alcohol or betadine, and wipe the skin around where the thorn has lodged.
Make a small hole above the thorn with the tip of the needle. Once you have access to the thorn, try to squeeze it through the hole. If necessary, increase the size of the hole with the needle. Use your tweezers to pull out the thorn as soon as you can get hold of it.
If you're not able to open a path for the thorn with the needle, use the nail clippers to cut away skin above it.
Wipe the site with betadine or alcohol when you've removed the thorn.
Apply an antibiotic ointment onto the site.