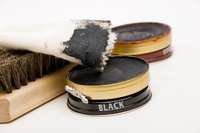 Whether or not you are in the military, leather boots look best when they polished to a shine. Those that have spent any time in the armed forces have boot shining down to a science, though everyone has their own techniques. To shine your boots to that same standard, you'll need polish and proper brushes. Shine your boots when you have a lot of time on your hands, because it take time to give them that shiny, glossy look.
Things You'll Need
Towel
Damp rag
Horsehair shine brush
Shoe polish (wax polish or cream polish)
Shoe polish brush
Cotton balls
Shine cloth
Bring your boots to the store that sells the shoe polish so you can more easily choose a shoe polish that matches the color of your boots.
Spread an old towel or newspapers down to protect the area you will be working in from shoe shine polish.
Place your boots on the towel, remove the laces and brush off excess dirt and debris from your boots using a horsehair shine brush. Use a damp cloth to wipe away any stubborn stains, but allow it to dry completely before applying polish.
Dip the shoe polish brush in the shoe polish and cover the whole shoe generously with polish.
Brush the shoe polish all over the shoe, even down to the seams. Set aside to dry for 15 minutes.
Brush off the excess polish vigorously using the horsehair shine brush, leaving a thin film of black polish all over the boots. The boots should have a dull shine from the shoe polish.
Dip a cotton ball, small cloth rag or old sock into a bowl of water and squeeze out the excess, then dip it into the shoe polish.
Rub the cotton ball or the rag on the toe of the boot, as well as the heel, using small circular motions to give those areas the extra shine they need. Use two fingers inside of the rag or sock if you are polishing with one of those items.
Apply one or two more coats of polish, until the toe and heel area of the boots have a very shiny look to them. Use a dry shine cloth to remove any excess polish.
Another method for creating high shine is to fill a small water bottle with water and spray the toe and heal area very lightly. Then buff with a dry, soft cloth until you have achieved a shine so glossy you can see your reflection in the boots.