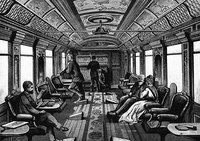 Since 1883, when this fabled train made its inaugural journey between Paris and Istanbul, the Orient-Express has been synonymous with decadence, scandal and adventure. If you've always wanted to experience the romantic era of deluxe rail travel, here's your ticket to ride.
Choose which continent you want to tour. The Orient-Express company operates privately owned, custom-built trains on four continents: Europe, Asia, Australia and North America.
Choose a route. Some routes are only one-way either direction and others, such as North America, are Grand Tours (depends on what continent you want to travel on). Meals, tea, coffee and gratuities are included. Fares are per person and based on double occupancy. Private compartments are available for an additional fee.
Book your trip at Orient-Express.com or through a travel agent. Since most Orient-Express routes are one-way, it's usually a good idea to have a travel agent arrange your vacation around the train ride, including airline flights and hotel accommodations.