Fifty-eight percent of adults in the United States eat out at a restaurant at least once a week, according to a 2013 Rasmussen Poll. While you may have less control over what goes into your food at a restaurant, that doesn't mean you have to sabotage your diet. A number of tips and tricks can help you eat healthy while dining out.
Plan Ahead
Going in prepared can really make a difference when dining out. Review the menu beforehand to see what's available and what might fit into your diet plan. Use the nutrition information, if available, to help you make your selection.
While it's OK to save calories from earlier meals so that you can afford to eat more when dining out, don't go to the restaurant too hungry. Just like at a party or the grocery store, if you're really hungry at the start, you might make poor decisions or overeat. Eat a salad or nosh on some carrot and celery sticks before heading out to keep hunger under control.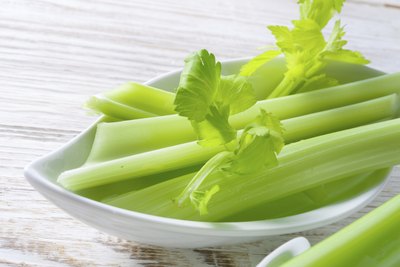 Good Breakfast Options
While breakfast is certainly an important meal, many restaurant breakfast items are high in calories, fat and sodium. Look for items that are high in fiber and protein to help control hunger and limit fat intake, says Helpguide.org.
Good options include a bowl of whole-grain cereal with nonfat milk or milk alternative, scrambled or poached eggs with whole-wheat toast, or yogurt with granola and fruit.
Tips for Lunch
Like breakfast, look for items that offer fiber and protein, such as salads, stir-fries or kebobs. Also, you want foods that are baked, broiled, grilled or steamed to save calories and fat.
If ordering an entree salad, ask for a low-calorie dressing on the side and use your teaspoon to add one or two spoons to your salad to control portions.
Lean meat sandwiches, such as poultry or fish, also make good options as long at the protein is grilled or broiled. Ask for whole-wheat bread, and skip the cheese, mayo and bacon; load your sandwich with veggies instead. Ask for a side salad instead of fries.
Enjoying Your Dinner
To keep a lid on portion size, which helps control calorie intake, order off the appetizer menu or create a meal using side dishes for dinner. For example, opt for an order of grilled chicken skewers with a side salad and steamed veggies.
Or keep your main entree simple and order grilled meat and veggies. You can also skip the meat and ask for just the veggies, such as veggie fajitas or tacos.
If you're following a special diet, such as a low-carb or low-sodium diet, talk to your server about options. Most restaurants honor special requests such as no bun with your burger or no added salt during cooking.