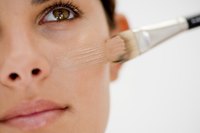 In parts of the world where most people have dark complexions, many women desire a fair complexion. Some cultures see fair skin as more beautiful than the darker complexion, and it is also easier to find a perfect makeup match for a lighter skin tone. If you have a naturally dark complexion, several natural remedies can lighten your skin tone and produce a fairer complexion. Many of the remedies need to be applied repeatedly over a period of time, but with several applications, you should start seeing results.
Things You'll Need
Egg
1 tbsp. honey
1/4 tsp. lemon juice
Bowl
Whisk
1/4 cup milk powder
Warm water
Papaya
Knife
Eggs and Honey
Mix the egg white, honey and lemon juice in a bowl using the whisk.
Smear the mixture all over your face. Wait 15 minutes before proceeding.
Rinse the mixture off your face and moisturize as you normally would.
Milk Powder
Pour milk powder into the bowl. Add enough warm water to make a thick paste and whisk it together.
Apply the paste to your face. Wait 30 minutes before proceeding.
Rinse the paste off your face with cool water and moisturize as normal.
Papaya
Cut the papaya in half with the knife.
Rub the papaya all over your face and leave it on overnight.
Wash and moisturize your face in the morning as you normally would. Repeat nightly for best results.