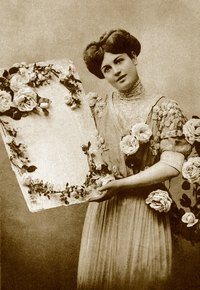 The Edward Era stretched from 1901 to 1914, which corresponded with the short reign of King Edward VII. The fashion of the era featured tight waists and full bustles, with hairstyles to match. Women wore their hair as voluminous as possible with the pompadour style, made possible by the development of permanent curling. This allowed fuller hair that was accentuated by pinning the curls over mats of gathered hair, known as rats. Women adorned the style with flat hats that were embellished with jewels. This was the last age of classical style that preceded the age of the flapper.
Things You'll Need
Hair net
Collected hair or silk stockings
25 or more bobby pins
Comb
Hairspray
1 to 2 hairbands
Clip-on ponytail (optional)
Collect enough loose hair from your brush to fill two hairnets. Alternatively, fill two hairnets with silk stockings. The two rats should be about the size of medium potatoes. Shape the rat into a long flattened sausage, around 6 inches in length.
Comb your hair. Don't wash your hair for about a day before you plan to style it; this will help the hair stay put. Pin the rat onto the side of your head, a little above the midway mark, with at least five pins. The amount will vary depending on hair thickness. The closer the rat is to your face, the fuller the pompadour will become. Thoroughly pin the rat to ensure stability. Repeat with the other side of your head.
Pin any bangs or the front of your hair back and away from your face to allow you visual access while you style. Take one side of your hair and pin it up and over the rat, halfway down the hair shaft. The front should create a pouf, while remaining smooth. The ends will remain loose if you have long hair, while any short ends can be tucked under the rat. Spray with hairspray, and repeat with the other side of the hair.
Take the front of the hair and flip it up and out over the pouf. The front should merge with the rest of the hair seamlessly, but it can take a few attempts. Spray with hairspray when you have achieved the smooth effect.
Gather the ends of your hair into a ponytail. With a short ponytail, you will add length to your hair with a hairpiece on a clip. Attach the clip to the ponytail; it should be bulky.
Wrap the hair around the ponytail to create a large bun, and pin to hold the style in place. The bun can set anywhere on the head, from the nape to the crown. In the traditional Edwardian hairstyle the bun was nearer the crown to support the hat. Spray thoroughly with hairspray.