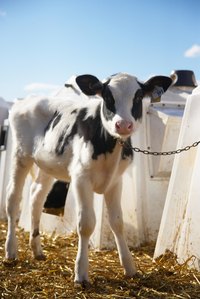 With a little time and effort, it's easier than ever to purchase your very own baby calf. The most important thing a buyer can do is to educate herself on what to look for in a healthy calf and how to care for it. Newborn calves are fragile creatures. Be certain you can provide the right environment for your animal, as well as adequate nutrition from the start.
Do your homework. Find out everything you can about what makes a good, healthy calf and how to maintain the animal. Make sure you have everything for the proper care of the calf before you buy it. When it comes to price, there's a wide range, depending on the region and source you buy it from. Baby calves can cost anywhere from $50 to $500 in extreme situations, with the average calf costing about $150. Take your time to get the best quality animal at a price you can afford.
Check the Internet. There are many websites specifically designed to sell baby calves. There are also cattle rancher forums online that help calf buyers and sellers network with each other.
Go to a livestock auction. Ryan Dunklau, who has been buying and developing calves for 10 years out of Wayne, NE, says that it's crucial to analyze calves from the ground up. When purchasing an animal, he looks at a calf's structure, overall lines, stoutness of bone and how fine its hair coat appears. Dunklau claims that while many characteristics can be unique, all calves should have a good, basic structure.
Contact dairies in your area. Find out who has calves for sale now, or ask when they are expecting to have them available. Dairies usually do not keep male calves, so they may be less expensive.
Contact a veterinarian who deals in livestock. Many vets know which ranchers are expecting new calves. They might even be able to help you by telling you what to look for in selection.
Check out ads in print publications like "The Farmer and Rancher Exchange." Hundreds of ads for livestock can be found in publications such as this one.