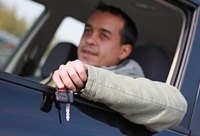 How to Get Insurance When Your Spouse Has a DWI. Driving While Intoxicated (DWI) is a serious offense in the U.S. It not only impacts the insurance premium but also results in the suspension of the driving license for a stipulated period and making the DWI a high-risk driver. Insurance companies usually will not provide a policy to such people. If your spouse has a DWI, your policy and coverage may also be under legal threat. Here are some steps to ease the situation.
Call up your insurance agent and inform them about the DWI suspension or hearing. If you don't do this, they will find out anyway.
Check your policy clauses. It will most likely have your spouse added to it. Inform your company that you would like a review of your existing insurance policy.
Request for exclusion. The first thing you can ask the company representative to do is to exclude the name of your spouse from the existing policy. Some states in the U.S. have mandatory laws pertaining to insuring married couples. Usually, they require adding the name of spouse. Verify to see if you qualify for exclusions in your state.
Make sure your spouse does not drive the car under the renewed policy with the exclusion. You will not get coverage under any circumstances.
Get ready to pay a high premium on your existing policy if you do not qualify for exclusions.