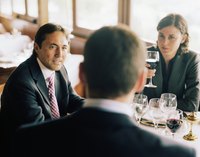 An invitation to a business dinner can change the direction of your professional life. If all goes well, you may come away with a job offer, business financing or valuable contacts with colleagues in your field. While this sounds like a lot to get nervous about, remember that a genuine display of good manners will make you memorable in the ways that count.
Meet and Greet
Find the balance between overwhelming and underwhelming your dinner hosts. You want each person at your table to remember your name and the organization you represent without coming on too strong. You should also remember the names of as many of your hosts as possible. To commit names to memory, say each person's name aloud and repeat it as you greet them. Make an extra effort to remember the names of your senior hosts.
Seating and Ordering
Watch your hosts at your gathering for cues. For example, wait for your senior host to sit down first and ask if she has a preference about seating arrangements before you take your own seat. If ordering dinner from a restaurant menu, you should also watch your hosts to make appropriate choices. You don't want to order the most expensive items on the menu just because your hosts are paying. On the other hand, you don't want to order a snack while your hosts order a full meal. A simple way to keep your meal choice in line with your hosts is to simply say that you're not familiar with the restaurant and ask for recommendations.
Table Manners
To make a good impression as a business dinner guest, your goal should be to eat neatly. If your dinner is casual, you should still avoid messy foods. Pass on anything that is difficult to eat such as spaghetti or sandwiches with drippy sauces. If the business dinner is formal, and your table skills are rusty, it's a good idea to skim through a book on dining etiquette to brush up on your skills before the event. For example, "The Amy Vanderbilt Complete Book of Etiquette: 50th Anniversary Edition," says that knives, forks and glasses are arranged in the order of use. The outermost fork should be used first, and so on.
Pass on Alcohol
Skip wine or other alcoholic beverages even if other members of your host party order them. Drinks such as iced tea or soda are safer bets, and you won't have to worry about accidentally overindulging and saying or doing something that works against your business or career interests. If you feel pressured to have a drink, it's acceptable to politely decline by saying that you need to be able to drive home with a clear head.