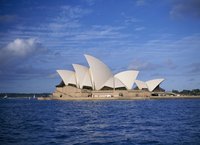 Visitors to Australia should be prepared for a country almost the size of the continental U.S., defined equally by a notoriously inhospitable desert interior and a scattering of vibrant, cosmopolitan cities along the coast. A trip Down Under entails extremes of distance, climate and development, but with the right planning, you'll enjoy a country well geared toward tourism.
Getting There
Flying direct to Australia can be relatively grueling, with some of the longest flight times on the planet. From the U.S., the longest nonstop flight is the Dallas/Fort Worth to Sydney flight, which clocks in at 7,454 miles. Passengers coming from the West Coast, on the other hand, can take the nonstop service from Los Angeles to Sydney, which takes around 15 hours. To break up the journey, several airlines, such as Cathay Pacific and Air Pacific, make stops in Hong Kong, Hawaii, Fiji or New Zealand. Within Australia, national airline Qantas flies from Sydney to Perth, a five-hour journey covering 2,500 miles -- equivalent to the distance between New York City and Los Angeles.
Necessary Documents
For entry to Australia, visitors need a valid passport with at least six months left before expiry, rather than the usual three months, over the full course of their stay. Visitors will also need to obtain a visa, which must be secured before arrival. Short-term visitors can get one online from the Australian Government Electronic Travel Authority, but most travel agents will also organize a visa, which is free, at the same time you book your ticket. No vaccinations are necessary for a trip Down Under.
When to Go
Australia's Southern Hemisphere climate means winter falls in July and August, while November through March are the summer months. Correspondingly, you'll generally find the cheapest airfares from April to August. Temperatures in the northern half of the country range from the mid-60s to mid-80s Fahrenheit from April to September, with little rain. Summer temperatures, though, can be brutal, topping 120 degrees in South Australia in some years. Frommer's recommends visiting in September and October, when it's still warm enough to enjoy the beaches and the rains have not yet come. October through March can be searingly hot, particularly around the Red Centre area and in Northern Queensland, where the cyclone season runs from January to February. Whatever the month, pack sunscreen, sunglasses and a sun hat for protection from Australia's famously high levels of UV light and intense sunshine.
Where to Go
You'll need to focus on a specific region or be prepared to cover huge distances via long drives or internal flights. Start in Sydney for some iconic sights, including the Opera House, Harbour Bridge, and day trips to the wine region and Bondi Beach. The easiest way to reach the Great Barrier Reef is to fly north from Sydney for three hours to Cairns in the tropical north; from there, day trips depart from the Reef Fleet Terminal. Flights also leave from Sydney and Cairns to Ayers Rock Airport in the Red Centre, home of Uluru, the mythical outcropping in the heart of the Outback. If you stay nearby, you can take an early morning walk to the summit. Those with more time should not overlook Perth -- the world's most isolated city -- on the west coast, notable for its Mediterranean climate and the wine regions of the Margaret River.
Getting Around
For independent travel around the eastern seaboard -- between Brisbane in the north and Melbourne in the south, for example -- many car rental companies offer the option of dropping the car off at your final destination. Rental agencies typically require renters to be at least 21, rising to 26 for four-wheel-drive SUVs, which are essential for travel into the interior. Train enthusiasts will love the country's epic rail network, with spans the land from Perth to Adelaide, with connections to Sydney and Melbourne. Passengers can book sleeper cabins with showers. For those on a tighter schedule, Qantas Airlines and Virgin Australia cover the major cities, but fares are high. However, Qantas offers discounts for international travelers, as well as a Walkabout Air Pass for discounted travel between numerous cities.