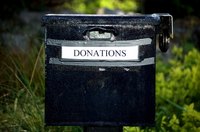 If you've decided to donate to make a charitable contribution, you'll need to organize the details of the donation to make the most of your efforts. Donating to charity isn't limited to just money; you can donate food, clothing, pet supplies and even blood, depending on the organization. Making any type of donation may also make you eligible for a tax deduction, which ends up saving you money in the long-run.
Pick An Appropriate Cause For You
When choosing a charity, it is important to decide what is most important to you. Most likely, it will be something that has personally affected you.There are literally thousands of charitable organizations out there and the IRS recognizes nine main types of non-profit organizations.
Charitable Organizations. Includes religious, scientific and educational institutions as well as private foundations.

Social Welfare Organizations. Includes civic leagues and community organizations.

Labor and Agricultural Organizations. Includes labor unions and farm bureaus.

Business Leagues. Includes trade associations and chambers of commerce.

Social Clubs. Includes hobby and country clubs.

Fraternal Societies. Includes lodges and other such organizations.

Veteran's Organizations. Includes organizations of past or present members of the Armed Forces of the United States.

Employee's Associations. Includes voluntary employees' benefit associations and local associations of employees.

Political Organizations. Includes campaign committees and political parties.
One final factor you will want to consider is how much of your donation actually goes to the cause. While some foundations give 100 percent of the donation to those in need, others retain a percentage to cover operating costs. Charities will be up front about this (they have to, according to the IRS), so make sure to do your research so that you end up with an arrangement that makes you comfortable.
Find A Reputable Organization
Before you give away your hard-earned money, you need to make sure that your donation is going to a reputable organization.
Start with the IRS, which provides a list of all of the organizations that have received tax-exempt status. These are the groups that have been approved by the government because they have complied with the laws surrounding the forming, organizing and running of a non-profit.

The Give.org site provides a database of approved organizations, as well as general advice and information for donors.

The Federal Trade Commission lists tips for donors such as:

The Better Business Bureau has a portion of its site devoted to donating money. Go to its charity section to get reports on specific charities, ask about a charity, lodge a complaint against a charity and get more tips on charitable giving.

The Chronicle of Philanthropy provides the latest news on the goings-on in the non-profit world. This site also highlights charities that have been identified by watchdog groups as especially deserving and reputable.
Decide How Much To Donate
There is no right or wrong amount to give when it comes to donating money. Any amount of money you can afford to give will be appreciated. Most charities suggest some level of giving. Remember that you can choose one of these levels or you can write in your own amount if you prefer. Don't feel "boxed" in by their suggestions. Several organizations offer benefits for donations. There are several ways you can structure your donation. You can give a one-time gift, an annual gift or even a monthly gift if you so choose. Most charities that solicit donations do so once a year, but you can always donate on your own schedule.
Only donate money that you are sure you can spare. See if your employer has a "matching gift" program. Many companies will match the donation an employee makes to a charity. This is a wonderful way to double your gift and force that nasty company of yours to grow a soul. If you want to claim your donation as a tax deduction, you must get a receipt.
Consider Non-Monetary Donations
You can still donate to charity (and possibly get a tax deduction) by donating your unwanted items to a needy cause. Donating clothing to thrift shops or books to school libraries are obvious options, but here are some lesser-known possibilities:
Cars. Many national charity organizations accept cars of almost any condition. These organizations will pick up your car, sell it and then use the proceeds for their cause. It is much simpler than going through the hassle of selling it yourself, and you're allowed to claim it for a tax deduction.
Computers. Non-profit groups, schools and religious organizations often depend on the technology that is donated because it is often too expensive for them to keep up with the latest products on their own.
Eyeglasses. Do you have an old pair of glasses lying around? There are people who can benefit from your old glasses. Lens Crafters, Canon USA and the Lions Club International all participate in the "Gift of Sight Program," which recycles your old glasses.
Musical instruments. The Directory of Youth Orchestras will help you find groups that can pass your instrument along to a child who can't afford his or her own.
Pet supplies.The Humane Society depends on donations, so give them any old leashes, cages, food bowls or water bowls.
Food. Contact Second Harvest to find a food bank in your area--they'll take any food you have (leftovers, canned goods, almost any kind of food).
E-donating. Websites are springing up that allow you to donate a percentage of the amount of money you spend when you shop off of one of their links to the charity of your choice. Some of these sites will offer you discounts as an incentive to continue shopping through them.
Get A Tax Write-Off
Remember, not all charitable donations are tax-deductible. This is because "tax-exempt" does not mean "tax-deductible." If you want to make sure you can deduct your donation, look for an organization that has 501(c)(3) status. This means that donations are deductible. If you aren't sure about the 501(c)(3) status of your organization of choice, then ask. It will be more than happy to tell you.
According to the IRS, you can deduct donations to:
You can't deduct donations to:
Once you have determined that your gift is, in fact, deductible, find the receipts that prove you made your donation. If you have given a non-monetary gift (such as a car or clothing), you are entitled to deduct the fair market price, which means that you might need to get an appraisal. If you get something in exchange for a donation (say, tickets to a charity ball), you must deduct what is the fair market price of that perk.
If you donate less that 20 percent of your Adjusted Gross Income in a particular year, you can deduct it all. If you donate more than 20 percent, you'll have to talk to the IRS to figure out exactly what deductions you qualify for.