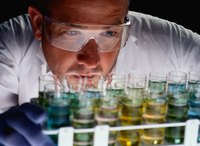 Process validation involves a series of tests that examine how effectively and efficiently a business process operates. The protocol for process validation describes the procedures for these tests, the order in which the quality control manager conducts these tests and the expected outcomes. The process validation protocol may be established by company policy, industry standards or government regulations.
Protocol Objectives
The main objective of a process validation protocol is to determine if the business's current process produces a high-quality product on a consistent basis. The end "product" of the process can include goods and services the company offers to customers, as well as to the end results of its own internal processes. For instance, a company can develop a process validation protocol for its order fulfillment process to determine how efficiently it processes an order, records the transaction and ships the order to the customer.
Installation Qualification
The installation qualification protocol verifies that each piece of equipment has been installed correctly and configured for its assigned task. The IQ also assesses if the procedures for using the equipment have been approved, if the equipment has all of its operating manuals and documentation available, and if the personnel operating the equipment have been trained in its proper and safe use. The IQ also determines if the environmental conditions, such as temperature, ventilation and humidity, are suitable for operating the equipment.
Operational Qualification
The operational qualification protocol tests the process produces a consistent product. The OQ protocol includes the use of the full range of inputs into the process to determine how effectively the process works under less-than-ideal conditions. For processes with multiple inputs of varying quality, the OQ can test how the variables of inputs and quality can affect the final product. For instance, the OQ protocol for a soft drink manufacturer can test how the process changes with different qualities and concentrations of water, flavor syrup, sweeteners and coloring agents.
Performance Qualification
The performance qualification protocol examines the capabilities of the current process in producing a safe, high-quality product under simulated conditions. The PQ tests can be conducted either by internal staff or by external product users. The PQ can act as a "stress test" for a product in a controlled environment. The PQ tests assess the final product's adherence to the expectations for its use established throughout the process, as well as the capabilities of the process to deliver the same product quality on a consistent basis.