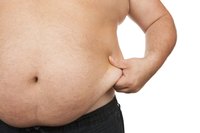 The exact cause of obesity in the U.S. is unclear. However, research points to a number of potential contributing factors, such as drinking too many sweetened beverages, excess snacking, regularly eating large portion sizes, eating away from home and the low cost of unhealthy foods. These are only five possible contributors. Other possible causes such as lack of exercise, genetic predisposition and socioeconomic factors are plausible as well.
Drinking Sweetened Beverages
Authors of a study published in the November 2007 edition of the journal "Obesity" identified increased consumption of calories from beverages as a contributing factor. Researchers examined beverage trends using data from the Nationwide Food Consumption Surveys and the National Health and Nutrition Surveys collected from the past 50 years. They found that by 2002, Americans were getting 21 percent more calories from sweetened beverages than they were in 1965, which is an overall increase of 222 calories per day.
Continuous Snacking
Having a nutritious snack between meals is not an issue, but snacking frequently on high-calorie foods is a potential problem, according to a study published in the June 2011 issue of the journal "PLOS Medicine.'' The researchers examined multiple studies and found that snacking behavior contributes to increased calorie intake. They found that by 2006 calorie intake in the U.S. increased by 570 calories. After an analysis of the data, they concluded that snacking was one of the strongest factors that contributed to the increase in calorie intake.
Supersizing It
Researchers point to a trend in larger portion sizes as another contributing factor to the increased calorie intake that can contribute to obesity. The researchers studied trends in portion sizes among adolescents and children as an example. They found increased portion sizes from calorie-dense foods such as pizza and salty snacks played a key role in raising the calorie intake at meals. The results were published in the November 2011 edition of the "American Journal of Clinical Nutrition."
Eating Away From Home
Habits such as eating away from home may be another contributing factor to obesity, suggests a study found in the May 2008 edition of the journal "Obesity." The study examined the eating behaviors of parents and their children. Researchers found that eating away from home at a relative, neighbor or friend's home at least once a week influenced dietary intake and increased the children's risk of obesity. Eating away from home led to an increased consumption of sugar-sweetened beverages and sweet and savory snacks.
Economic Factors
Economic factors may contribute to obesity in America, according to the author of a review published in the "American Journal of Preventative Medicine" in October 2004. People wanting to reduce their food costs may choose unhealthy foods that are high in calories because these options are typically more affordable, according to the review. A diet based on refined grains, added sugars and added fats is more economical than a diet consisting of lean meat, fish, fresh vegetables and fruit.