Birth Control Methods
Birth control comes in a variety of methods for women. Types include abstinence or natural methods, barrier methods, hormonal methods, implantable devices, permanent methods and emergency contraception. Physical side effects, along with benefits, are possible with various methods, especially those that change the hormone levels in an individual. These hormonal methods may include oral contraceptives, the patch, shots/injections, vaginal rings, implantable rods, intrauterine devices and sterilization methods.
Birth control methods provide highly effective protection against pregnancy, most exceeding 99 percent reliability, but do not protect against sexually transmitted diseases. According to the National Women's Health Information Center, many oral contraceptives provide benefits that can include the following:
Regulate menstrual flow, often lightening the period - Ease menstrual and premenstrual symptoms - Reduce pain and cramps - Improve acne - Reduce the risks of certain types of cancer
Possible side effects of hormonal birth control methods can include the following:
Nausea - Weight fluctuations - Sore or swollen breasts - Spotting between periods
Although rare, other risks may include blood clots, stroke, heart attack or embolism. Such risks are greatly increased for those women who smoke or who are over the age of 35.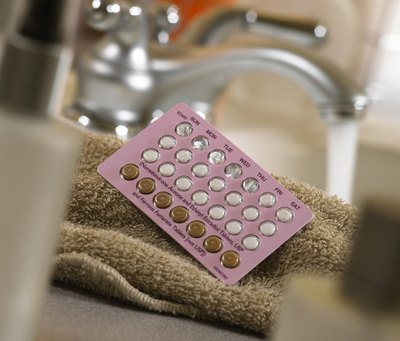 Menstrual Cramping
Many women notice menstrual cramping several days before their period during their premenstrual stage, and possibly even a few days into their period. This cramping is also known as dysmenorrhea and can be characterized by lower abdominal or lower back pain or discomfort that is achy or sharp. Primary dysmenorrhea is a common occurrence, but severe pain or discomfort is classified as secondary dysmenorrhea and should be discussed with your doctor. Other symptoms may accompany this cramping, including headache, nausea or loose bowels.
Menstrual cramps are usually eased or lightened by use of birth control methods. It is very rare for such methods to be the cause of such symptoms. If you notice worsening or increased occurrences of cramping, this may be indicative of another medical problem. According to the National Institutes of Health, additional causes may include endometriosis (uterus tissue growing in other areas of the body), fibroids (noncancerous tumors in the uterus), ovarian cysts, pelvic inflammatory disease, sexually transmitted diseases, stress or anxiety.
It is rare but possible for a birth control method you just began, especially an intrauterine device (IUD), to cause slight cramping, and such cramping should be relieved by the continued use of the method. If the cramping continues, consult with your doctor to test for other possible medical issues.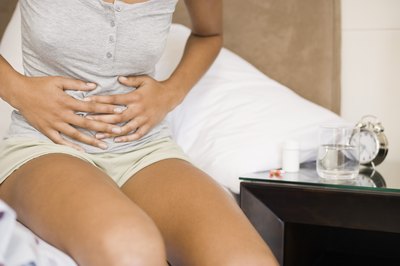 Treatment of Menstrual Cramping
For primary dysmenorrhea, typical treatment includes use of oral contraceptives, over-the-counter pain relievers (such as aspirin or ibuprofen), heat therapy (typically with a heating pad or a bottle filled with hot water) or massaging the abdominal area.
To help prevent the symptoms, The University of Michigan Health System suggests getting plenty of rest, exercising regularly, starting aspirin therapy 2 days before your period starts and avoiding foods and beverages that contain caffeine.
For symptoms suggestive of secondary dysmenorrhea, consult with your doctor immediately for other possible medical conditions and treatment.