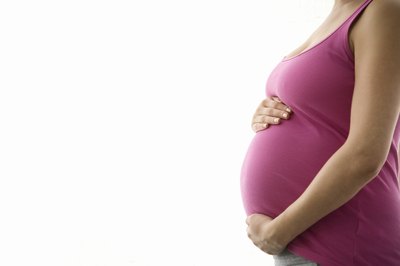 Stress During Pregnancy
Stress in everyday life is inevitable. However, during pregnancy a woman should do as much as possible to reduce her levels of stress. Stress from work or home life can cause a woman to lose sleep, take on unhealthy eating habits or not get enough nutrients for her and the unborn child and increase the mother's heart rate and blood pressure.
When a mother's heart rate and blood pressure increase, it can cause unneeded stress on the baby, leading to a harmful condition known as preeclampsia. Usually preeclampsia will develop around the 20th week of pregnancy, with the mother having sudden weight gain, swelling in the hands and feet, severe headaches and dangerously high blood pressure. The only "cure" is to be put on bed rest and to deliver the baby safely (usually after 36 weeks).
In addition, a poor diet and lack of sleep or rest can lead to low birth weight, premature birth and developmental problems.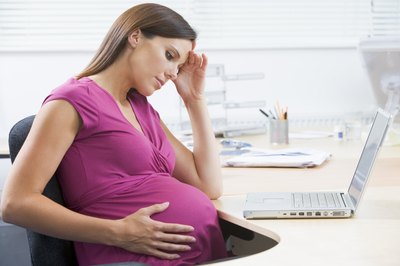 Depression During Pregnancy
According to the American Pregnancy Association, 10-20 percent of all women experience some level of depression during pregnancy. Depression during pregnancy is a mood disorder (just like depression without being pregnant) and involves changes in brain chemistry. Hormone changes during pregnancy may make depression worse and in fact may even be a cause of depression itself for a pregnant woman.
However, too often depression in pregnant women goes undiagnosed because women, loved ones, and even doctors blame these depression-like feelings on hormonal changes. These feelings of continual sadness, difficulty concentrating on tasks, feelings of hopelessness or worthlessness as well as thoughts of death or suicide should be taken very seriously.
Remember that a child in the womb will feel the same feelings you do--emotionally and physically. Untreated depression can lead to the mother having poor nutrition as well as being careless with her actions (drinking, smoking and other dangerous activities or lack of adequate rest), which can lead to low birth weight, premature birth and developmental problems in your child.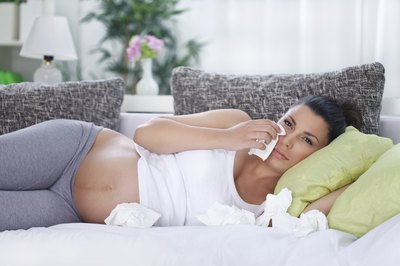 Long-Term Effects & Ways to Reduce Stress and Depression
Depression and stress during pregnancy can lead to long-term developmental problems, especially vision development, hearing development and learning disabilities. Recent studies, one in particular at The Ohio State University, links prenatal stress to autism in these same children. Autism is usually diagnosed by the age of 3, and it has many different levels of severity ranging from being antisocial and nonresponsive to being functional but with slight learning disabilities and attention issues.
During pregnancy, mothers can reduce their risk of developing depression and reduce their stress by exercising regularly, eating a balanced diet and resting regularly. Even during a stressful, long day at work, a mother can still take 10 minutes or so every two hours to sit down, rest and relax. If a mother can try and take regular naps, or even just lie down once during the middle of the day for about 30 minutes, it can greatly reduce stress levels and the risk of developing depression.